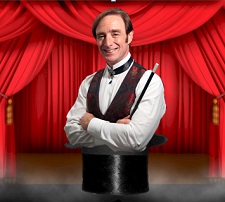 Book Elliott for your next event
Adult Parties
If you think Magic is just for kids....Think Again!!!
Comedy Stage Magic
Wow your guests at your next party. This interactive adult stage show will dazzle everyone and leave them rolling in the aisles. It is comprised of illusion, Mentalism and escape maximizing the use of comedy, wit, lots of audience participation and 'fun'. This format of magic is entertaining, mystifying and big on impact leaving a lasting impression. Donąt worry. A stage is not always necessary.
Close-up Magic
The Magician performs close-up minor miracles of magic through-out the room interacting with your guests. The magic happens mere inches before their eyes and sometimes right in their hands ... they won't believe their eyes! This works great as an 'ice-breaker' and adds a personal touch that raises the level of energy in the room. It stirs up lots of laughs and creates a pleasant atmosphere for everyone.
Adult Parties
Birthdays
Anniversaries
Weddings

Family Reunions
Theme Parties
Special Occasions