Elliott Smith, Comedy Magician, as featured at the legendary Friars Club in New York City and opening act for the world renowned Four Aces in Pinellas Park, Florida
For over 40 years, top Ottawa and Florida based Comedy Magician, Elliott Smith has been entertainaing corporations, television audiences and travelers across Canada, the United States, Europe, the Caribbean and Mexico.
Elliott proudly made history in 2015 as the first Canadian magician to have performed in the Friars Club's 111 years history - The Friar's Club in New York City is one of the most prestigious private clubs in the United States and home to some of the greatest comedians in the world along with a who's who of well-known politicians, actors, musicians and other entertainment professionals.
Prime Ministers of Canada, international Ambassadors, the late Liberace as well as Jay Leno have experienced Elliott's special brand of magic and comedy! Elliott was honoured the Order of Merlin Shield, a very prestigious award by the International Brotherhood of Magicians.
Elliott's magical performances add that extra flair and fun to your corporate, children or adult events, parties and celebrations.
The Friars Club - Feature Act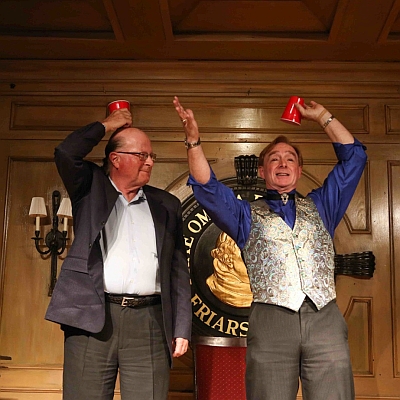 "Elliott, I want to thank you for bringing magic to the Friars Club. Our members had a wonderful time enjoying not just your magic but also the comedy aspect that you brought with it. As you can imagine, the Friars love a good laugh and you gave them many. Your engaging style and wonderful wit won them over and trust me, they are a very tough crowd to win over!" - READ MORE
~ Michael Caputo, General Manager of the Friars Club
The Four Aces - Opening Act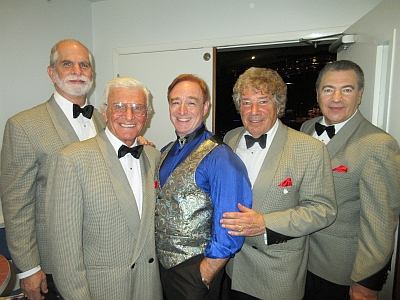 "We had the pleasure of performing with a very talented and entertaining comedy Magician - Elliott Smith. We have been performing for audiences around the world since 1950 and have shared the spotlight with many notable performers and Elliott ranks right up there with them. We watched Elliott perform his magic and comedy and we were in awe, he was fantastic, he is tops in his field."
~ Joe Giglio - The Four Aces
Bill Haley's Comets - Opening Act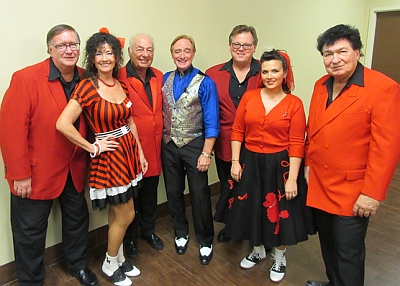 "Just a quick note to tell you how much of a pleasure it was working with Elliot Smith in Clearwater, Florida. He was the opening act for our band and he did an amazing job. Elliott controlled the audience very well and his magic illusions were both amusing and entertaining. I would highly recommend Elliott for your next function requiring either an opening act or a full show and we're looking forward to working with him again."
~ Lenny Longo - Bill Haley's Comets and the Comets Rock & Roll Show.
"Holy smokes Elliott - you are incredible! You mesmerized my 500+ audience. In addition to being a gifted magician, you are also very funny, you had the entire audience captivated and bursting with laughter. Elliott, you are a first class and world class entertainer and I would highly, highly, highly recommend you to anyone!"
Peggy McColl - New York Times Best Selling Author
"I want to thank you for a wonderful performance... everyone loved it and they are talking about it still! In all honesty, we've had magicians here in the past, but your performance was absolutely top-shelf… why would we want to have just ANY illusionist, when we have seen the best that Florida has to offer. You provided a funny, CLEAN and a very participatory show, and we'll look forward to having you back again and again!!!" - Luke McKain, Activity Coordinator Oxford, FL
"AMAZING...ENTERTAINING...A TRUE SHOWMAN! These are only a few words to describe the talent of Elliott Smith Professional Magician. His friendly down to earth personality quickly warms the crowd and amazes even the toughest critic with jaw dropping magical tricks. You know you have had great entertainment when your staff talks about it weeks after.
- Paul & Linda Tellier - End of the Roll Carpet
For your additional entertainment requirements, Elliott offers a team of professionals including:
| | | | |
| --- | --- | --- | --- |
| | Clowns | | Piano Players |
| | Unicyclists | | Psychics |
| | Mimes | | Golf Pro |
| | Jugglers | | Caricaturists |
| | Live Music (Duets, Trios, Bands) | | Disc Jockeys |
Ask Elliott to help you plan your next event.
See listings of upcoming and recent performances
and media attention.